Since my last South Carolina Real Estate Update, we have seen dramatic changes in our country and state. There are many questions regarding COVID-19 and each of us is working to cope as well as possible and serve others during this time. Maybe you were planning to list your home this month or buy a home and don't know how to proceed. Here is a list of the most common questions I am fielding these days and hopefully they will help you!
Is The Foster Smith Team still working?
Real estate has been categorized as an essential business. However, this does not mean business as usual. What this does mean is closings continue to occur, Insurance policies are written, and mortgages are issued. Court houses are open for title research and recordings of deeds.  I just closed a house on Monday without incident. Gloves and masks were present at the closing table and social distancing was in place.
Can I list my home right now?
Yes we are still listing homes and as a matter of fact, I am listing a house today. However, we are down in our average number of listings by about 15% .
 Are homes still selling?
Yes, homes are still selling.  As a matter of fact my team just sold two houses in the last two weeks and I am writing another offer today. However in the entire area, we sold around 15% less homes last month than we sold in March last year.
Is my team working remotely?
Thankfully, just about everything can be done electronically in our business. We have a skeleton crew manning the office.
Are we abiding by the guidelines?
Yes we are.  If we show a house we drive in separate cars. We take disinfectant wipes with us and wipe down doorknobs and anything we touch. We advise the seller to leave all doors open so we have to touch as little as possible.
Is it wise to buy now?
Understandably, there are fewer people shopping right now therefore you have less competition for the same house. Interest rates are very low – in the 3.25% range for good credit.
Please do not hesitate to call or email with any real estate questions you may have during this time. We are all weathering this storm together.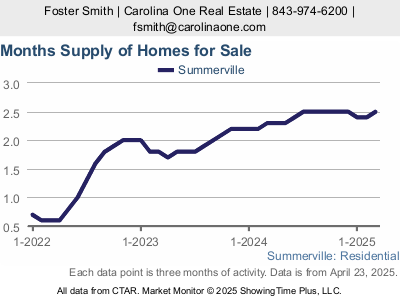 The average price per square foot in Summerville rose to $133/square foot last month due to the lack of inventory.