The Summerville Real Estate market closed out the month of August with strong numbers! The trend continues to be a seller's market and we now have 47%  less homes for sale in Summerville then we did this time last year and the average sales price for homes in Summerville last month closed out at $295,474 which is 10%  up from this time last year.
We saw  420 homes for sale in Summerville sell after an average of 38 days on the market. 
The average price per square foot in Summerville rose to at $137/square foot last month due to the lack of inventory.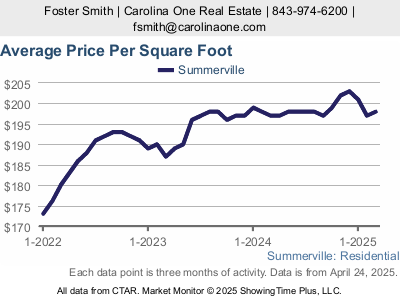 If you are thinking of changing your living situation, have your eye on a new home, more land or a change of scenery, now might be a good time to do it. My clients are getting top dollar for their homes, some seeing multiple offers and receiving above list price. Check out my website to see what your home is worth in the current market. What is My Home Worth?
If you are a home seller and would like to discuss your Summerville Home and what it is worth in our market today, please e-mail me for more information or fill out this form.